Denver, CO- gogoLab is an improvisational power trio that creates live soundtracks to your favorite films. Their new Album BORDER PATROL takes us on a dangerous action packed journey through the majestic landscapes of the Southwest United States. Trumpeter AnDre Mali joins them on this on this musical road trip through the windblown needles of Canyonlands following tumbleweeds across the high desert.
gogoLab is known for their live danceable jazz/funk/improv infused goodness with tight pockets, heavy endings and incredible soloists. From a one horse town to a bustling Metropolis; gogoLab creates the soundscapes that take us there.
gogoLab has released 2 albums - The Stakeout 2006; Complimentary Ornament 2008-that have appeared in many television shows such as:
HBO Real Sex (HBO) | Amazing Wedding Cakes (Women's Entertainment) | Total Wrecklamation (green channel) | Underdog to Wonderdog (Animal Planet) | Beltway Unbuckled (History channel) | Biography (Billy Crystal) A&E| Emeril Green| Forbes Luxe (Travel Channel) | Gene Simmons Family Jewels (A&E) | History Detectives (PBS) | Man Vs Food (Travel Channel) | Model Latina (SI TV) | Love Court
---------------

Brian McRae Drums/Promotion/Production
: Founder of drumoverdubs.com. Brian has performed with artists like Kyle Hollingsworth Band, The Freddy Jones Band, Mindy Smith, Michelle Shocked, Kip Winger, Colorado Symphony, Firefall, Xiren, Nina Storey, Rob Drabkin, John Common, Yonder Mountain, The John Denver Band, Liza Oxnard, Sally Taylor, Wendy Woo, Dechen Hawk, Tony Furtado, Katie Herzig etc. Brian's cyberspace studio drumming has been featured in many feature films and video games worldwide.
Eric Moon Keys/Spatial Disorientation
: Eric Moon has written a #1 hit single in Malaysia, toured with Bjork, arranged for the tower of power horn section, backed up Charlie Pride, written factory sounds for Alesis synthesizers and recorded with Todd Rundgren and Nancy Wilson of "Heart". He also serves as the Organist for the Colorado  Avalanche.

Bijoux Barbosa: Basses/Fashion Coordinator
: Bijoux is a Bass professor at CU Boulder and a first call session player in Denver. He has performed with reputable jazz artists including Art Lande and Ron Miles, Herbie Mann, Dave Grusin, Don Grusin, Bryan Lynch, Russell Ferrante, Chuck Loab, Gerald Albright and Lee Ritenour, He also is a member of the LSO Littleton Symphony Orchestra.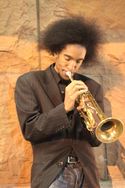 AnDre Mali: Featured Trumpeter: International performer, composer, arranger and educator. His musical diversity has led him to perform with jazz legends such as JohnHicks, Cuban born Grammy winner Arturo Sandoval and even Rock and Roll Hall of Fame inductee, George Clinton, among numerous artists throughout the world. He has also co-produced an hour television special, as well as written music for film.

Tim Hochman: Bass
; Tim is one of the most creative bass players in the Denver indie scene. He writes and produces for the group Birdy. Tim performed on the gogoLab Complementary Ornament Album and is a staple player on the gogoLab roster.